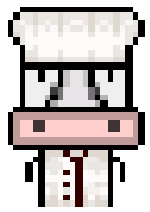 The Cook (the Chef in Cowmalot) prepares food for the King and other residents of the castle. He starts off with no tools except the
shovel
,
hoe
, and
knife
.
Special Items
Edit
 Cook Set

 Chef Set

Roleplay Info
Edit
He does not know how to fight, craft, or hunt. He can farm a bit, he knows how to raise animals, and he knows how to cook anything. He doesn't build much, as he has a kitchen built for him by expert masons and carpenters.
His presence in the castle is not unusual, and should be expected. He has a home in the castle, but does not live there.
He was hired by the King and should be paid (the King may decide the fees granted to him).
Ad blocker interference detected!
Wikia is a free-to-use site that makes money from advertising. We have a modified experience for viewers using ad blockers

Wikia is not accessible if you've made further modifications. Remove the custom ad blocker rule(s) and the page will load as expected.