Job Selection
Edit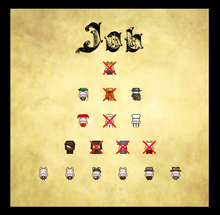 In Cow RP, the very first thing you need to do before joining in a round is to chose a job class. The way that they are deciphered is in a monarchy system originating back to medieval times in a player-friendly simulation. There are three different modes which come with different job selection formats. For instance, Kingdom may have the royalty and peasants. Peasant mode only has peasants (and currently for some reason middle class roles as well). Islands has the same amount as Peasant Mode.
Note: The summaries below are meant to be humorous gags, and should not be taken seriously. Remember follow the rules.
Allegiance

Edit
King
Impose taxes every SINGLE day, carry your mighty sword EVERYWHERE, "try" not to explode when your Jester HUMILIATES you in the middle of a speech, bash your head against the wall when your Knights are dressed up as masked VIGILANTES. Control your escort to either loot an AFK guard or wearing some of the royal clothes you never bother to put on. Have blood feuds with the farmer over land. Never pay any of your workers and spam the report button when they lynch you.
Royalty
Knight
Never leave the Kings side. Break that one rule and decide to dress up as a peasant. Watch your King as he's sleeping. Kiss your King's forehead while he's sleeping. Decapitate peasants when they lay a finger on the King.
Royalty
Guard
Man the moat! Get bored, and walk off into the town. Walk off into the forest, get attacked by a mob of wolves. Get your neck slit by either a lucky necro or the peasent that you took 100 gold from and kept for yourself.
Royalty-Neutral
Archer
Mess with the moat lever when there's no guards at the post. Shoot at peasants with your bow at close range, because that's what it's good for! Accidentally shoot at the King and get dog-piled by the Knights.
Royalty-Neutral
Jester
Play silly pranks, tell funny tales, blast peoples ears with your refreshing music! Mock the King whenever you get the chance.
Royalty
Priest
Always bother a peasant for an axe. Make attempts to gather up the village at your church so you can preach about your God! Watch as people metagame and bring dozens of corpses to your church.
Your One True God
Cook
Prepare the food! Serve the food! Make sure that bastard chemist doesn't poison it! Cry when the King gets paranoid that over his own chefs cooking!
Royalty
Middle Class Edit
Allegiance

Edit
Chemist
When idiots eat random berries in the forest and get sick, you are the shady looking figure to talk to! Be the stalker hiding behind a tree. When the King asks you for berry heals, give him the one that poisons and skip town.
Outsider
Necromancer
Slit throats and gain another slave whenever an unlucky person gets mauled by a pack of wolves. Never wear your cloak unless you want to get metalynched. Try to keep your zombies in a secure facility, bash your head against the wall when they follow you everywhere. Have a nice conversation with admins every time you reanimate someone who doesn't want to be a zombie.
Outsider
Mage
Unite with your siblings and become the three musketeers! Remember to not shoot the King in public, but definitely cast meteors down on them from an airship. Cry when peasants with a stockpile of corn break into mage trials. Never speak a word about Templar or your magical talent, just walk around town with your pointy hats, fancy dresses, and wooden poles.
Outsider
Wolf
Question why multiple people are following you while you have your fancy cloak on. Lock pick doors like an assassin, throw smoke which you can't move through onto the ground, and get KO'd by a wolf believing it's your distant cousin.
???
Peasants Edit
| | | | Allegiance |
| --- | --- | --- | --- |
| Carpenter | | Wear your stylish armor, carry around two clubs, then get laughed at since they are no longer powerful. Make plenty of barrels and run some sort of dinery... EVERY ROUND. Be the one who gets persuaded easily during a rebellion because you got the goods, and they need em. Casually saw down every tree during the beginning of an islands mode, leaving everyone stranded. | Neutral |
| Miner | | Born and raised in a minin' town. Where most folks thought that up was down. We all lived and gave our soul. Did it all for ol' king coal. | Netural |
| Hunter | | Hunt certain animals for certain jobs. Hunt jackelopes to mass produce them in giant carts, end up chopping off their heads specifically for their antlers. Travel to metagame island while metagaming the existence of dogs. Use camouflage in the dead of night and become puzzled when a wolf KO's you. | Netural |
| Tailor | | Create the new stylish shirts, capes, hoods, because your design is absolutely FABULOUS! Open up a shop, make dye with berries, and in the process eat a poison berry. Realize your existence means nothing to the advancement of the round and die slowly. | Neutral |
| Fisher | | Create your cabin near the lake, make a path to it so people can acknowledge your existence. After fishing plenty, make signs indicating you are selling fish products. Become that free scurvy driven, pirate deep within yourself during Islands Mode. | Poseidon |
| Farmer | | Become the stereotypical farmer with a shotgun. Note that the game doesn't have a shotgun, and just kill anyone who t onto your land. You can take up LARGE portions of land but, beware of tax day. Every night or so get a break in, and find out someone picked all of your crops. Have blood feuds with the King over land. | Neutral |
Ad blocker interference detected!
Wikia is a free-to-use site that makes money from advertising. We have a modified experience for viewers using ad blockers

Wikia is not accessible if you've made further modifications. Remove the custom ad blocker rule(s) and the page will load as expected.