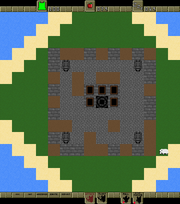 The mysterious dungeon found on Templar Island is the ancient tomb of the Knights Templar and the
Cult of the Damned
. Filled with demonic beasts, few have returned.
Roleplaying with the dungeon
Edit
The dungeon is not known to the residents of Bovinia or Cowmalot. A character mentioning the dungeon without actually having gone there is metagaming.
Ad blocker interference detected!
Wikia is a free-to-use site that makes money from advertising. We have a modified experience for viewers using ad blockers

Wikia is not accessible if you've made further modifications. Remove the custom ad blocker rule(s) and the page will load as expected.